VAO BEACH CENTER
CAMPS & EVENTS
VBC
VAO BEACH CENTER
INTERNACIONALL BEACH CAMPS & EVENTS.
Vao Beach Center es un centro dedicado a la organización de campamentos de actividades náutica en ingles y eventos que se encuentra en la playa del Vao, a 15 minutos de la ciudad de Vigo y que está emplazado en una bahía de aguas transparentes y playas de arena blanca que componen un parque acuático natural.
El Beach Center dispone de 2800 m2 de instalaciones con acceso directo a la playa ,aulas, vestuarios,duchas,piscina,terraza lounge, comedor,cocina industrial, amplias zonas de esparcimiento y almacén para equipos náuticos.

Vao Beach Center focus to the organization of summer camps and events located on Vao beach, 15 minutes from the city of Vigo and located in a bay with transparent waters and sandy white beaches,composing a natural water park.
The Beach Center has 2800 m2 of facilities with direct access to the beach, classrooms, changing rooms, showers, swimming pool, lounge terrace, dining room, kitchen service, large relax areas and storage areas for nautical equipment.

BEACH CAMPS
Nautical activity camps in English with and without accommodation. Ages: 6 -17 years old and also camps for adults. Wingsurf, windsurf, paddle surf, giant paddle surf, catamaran, snorkel, games, excursions, swimming pool, giant trampoline,.....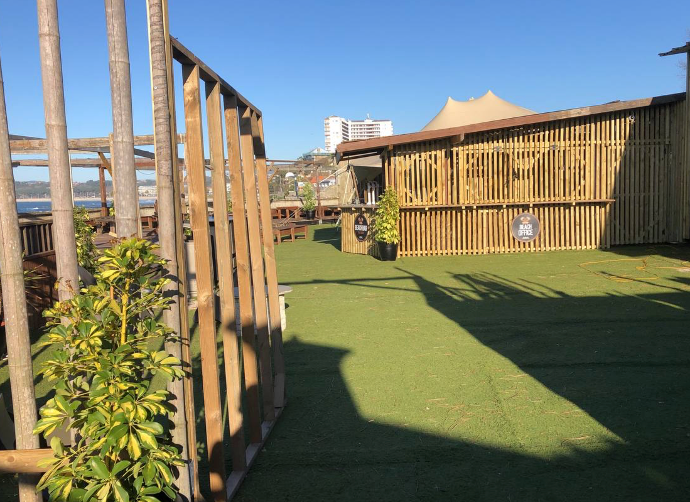 EVENTS
Organización de eventos privados,sociales y deportivos.2000 m2 de superficie con carpas Beduinas, área de piscina para fiestas y 250 m2 cubiertos. Instalación de sonido e iluminación.Cocina propia.Incomparable marco sobre el mar con acceso directo a la playa. A 5 minutos de los mejores Hoteles de Vigo y la salida de autopista A6 comunicada con aeropuertos de Vigo,Oporto y Santiago.
VAO BEACH CENTER - Carretera de Canido 30 - 36330 VIGO-SPAIN